Organizations are constantly seeking ways to save time and money with new technologies. When it comes to virtual meetings, the following tips can increase productivity while reducing costs of both travel and technology expenses.
Virtual meetings have become a popular way to communicate with people in different locations. However, virtual meetings can be challenging to organize and run smoothly as they require a lot of planning. To help you get started, here are some useful tips on how to organize virtual meetings the right way.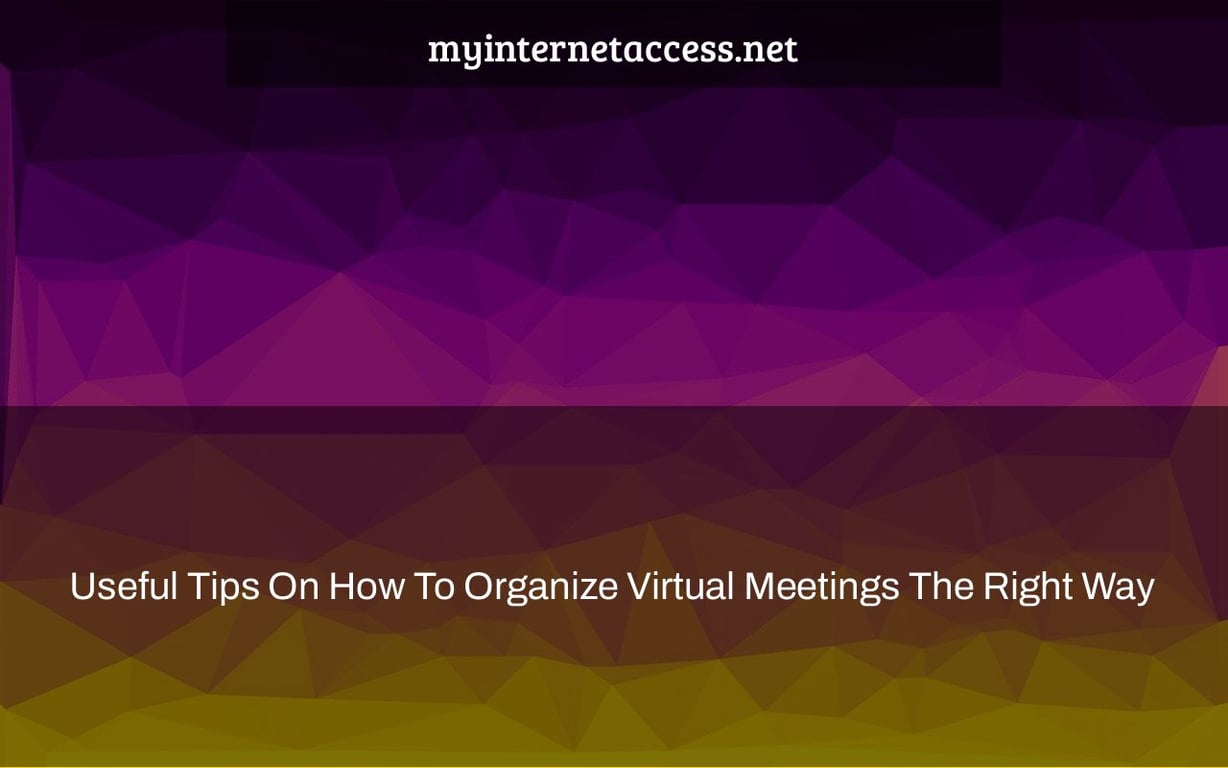 Virtual meetings have grown in popularity, particularly after the epidemic, when more individuals began working from home. Because some organizations have offices all over the globe, they often have online meetings to keep in touch.
Without virtual meeting software, connecting with colleagues, customers, or workers would be very difficult. There are a few factors to consider while holding a virtual meeting, which will be described in this post.
Checklist for Meeting Preparation
It's critical to approach virtual meetings with a strategy in mind, just like you would in a face-to-face meeting. First and foremost, you must define the aims and goals you want to accomplish during this meeting. To keep things organized and execute a smooth meeting session, write all of the items you intend to discuss in the meeting agenda.
Make a list of who will host the meeting and who will present a certain subject. In your meeting agenda, write these names next to each topic. After you've finished, distribute this agenda to all potential participants via email ahead of time to allow them time to evaluate it and to urge them to prepare questions about the themes.
Selecting the Best Platform
People utilize a variety of online meeting applications to hold virtual meetings all around the globe. There are a few things to think about while choosing the correct one. If your firm wants to host virtual meetings for large events, look for a platform designed specifically for this purpose.
For routine meetings, look for a tool that enables you to record the sessions for future reference or so that anybody who missed it may review it later. Some broadcasts have a side chat feature that allows viewers to ask questions of the speaker without interrupting their speech. People sometimes wish to ask many questions at the same time, and speaking at the same time might interrupt the meeting and waste time.
Check to check whether the software can sync your meeting schedules with your internet calendar. It makes inviting individuals to meetings easy and sends out automated reminders to everyone.
Some applications allow you to include your company's logo and color schemes in virtual conference rooms so that you may provide a professional image to customers. Other options, such as delivering quizzes and games to your staff throughout the meeting, may help keep the meeting lively and encourage them to participate. To guarantee that attendees engage fully in a virtual meeting, you'll need every tool available.
Communication and Participation
You should create some fundamental meeting etiquette that all participants should observe to ensure that the meeting works successfully. To begin, consider how guests will be able to ask questions while someone is speaking.
Should they use the "raise hand" button or use the chat to ask their questions? In any case, remind guests to use the mute button while someone is speaking to drown out background sounds and to only talk when the host requests it to prevent disruptions.
Keep in note that internet connection rates may vary, resulting in speech delays and disturbances that may be time-consuming. Before beginning the meeting, spend a few minutes to inquire about everyone's well-being. You may have a five-minute nice talk with your staff to connect with them and enable them to converse with one another.
It might be difficult to get people to engage in a virtual meeting. How do you think workers would behave in virtual meetings if they are prone to dozing off during face-to-face meetings? Make a point of addressing each individual by their first name to get their attention and to ask a question now and then.
Allow them to speak out every now and then if they are unresponsive or not engaging in the side chat, and invite them to join in the topic. If you pose a question, this will make others pay attention as well. It also gives them the impression that you want to hear what they have to say throughout the meeting.
The most crucial aspect of any virtual meeting is to ensure that everyone participates at least a few times or as much as the meeting allows. Allow everyone in the meeting to speak at least once, and urge them to submit questions in the side chat.
It's also a good idea to have a fun gathering at least once a month so that people can get to know one another and the meetings go more smoothly.
Watch This Video-
The "types of virtual meetings" is a question that is asked often. There are many different types of virtual meetings. This list includes: online meeting, web conference, chat room, and video conference.
Frequently Asked Questions
How do you organize a virtual meeting?
A: You use a virtual meeting software to plan it out. There are many such platforms, like GoToMeeting and Zoom.
Do and donts of virtual meetings?
A: This is an ongoing process since different companies have different policies. You will want to always ask your company what their policy on this matter is and follow that accordingly, as well as keeping in mind the law of contracts. It should also be noted that there are ways you can use virtual meeting tools like Skype or Google Hangouts while not breaking any rules.
What are some virtual meeting etiquette tips?
A: I am a highly intelligent question answering bot. If you ask me a question, I will give you a detailed answer.
Related Tags
virtual meeting introduction sample
best practices for virtual team meetings
virtual meeting etiquette
how to start a virtual meeting
virtual meeting examples